What is a Correct Score Bet?
Before you place a sports bet using your favourite sports betting website like Betway or 1xbet. It is important for you to understand how it works. African Football Bets not only provides daily sports betting predictions and sports betting tips but we also want to educate you to become a smart sports bettor.
After a 90 minute football match the outcome is determined by the result and the result is based on the full time score. Placing a sports bet on a correct scores mean that you are betting on the outcome of the 90 minute match. You can place a correct score bet pre-game or during the match in-play with online sports betting websites like 1xbet, Betway or Sportingbet.

So what is a Correct Score Bet ?
A correct score bet is one of the most popular sports betting markets for football sports bettors. This is because of the risk vs reward. When you place a bet on a football match between two teams. For this example we will use Real Madrid vs AS Roma. Because Real Madrid will be the stronger of the two teams thus making them the favourites. When you try to place a match result bet the pre-game odds will have low returns/payout excluding stake.  However the correct score bet will usually have a higher payout compared to the pre-game match result odds. This is due to the difficulty involved at predicting a correct score over 90 minutes.
The most popular correct sore selections taken by sports bettors are usually 1-1, 1-0, 2-1 and 3-2.
To place a correct score bet with an online sports betting website like Betway or 1xbet simply search for the correct score betting market for the fixture you are looking to bet on.
Once you have found the market you simply select the correct score. If you select 2-1 this means the that first team/home team will win by 2 goals to 1. If you select 1-2 this means that the second team/away team will by 2 goals to 1 in 90 minutes.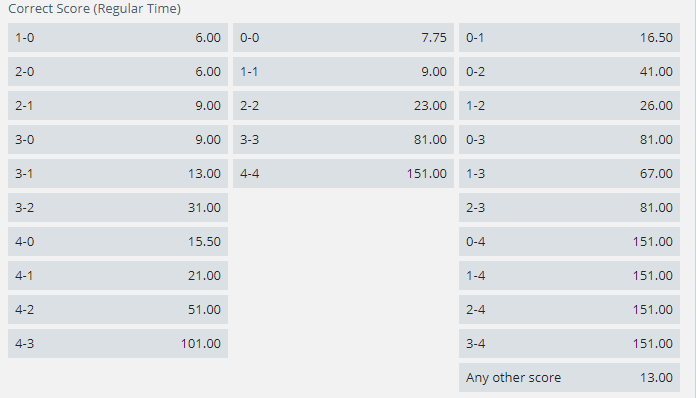 Online sports betting websites like Betway Bet9ja Nigeria  and 1xbet also offer a correct score market for halftime. This means you must predict what the score will be in the first 45 minutes and only the first 45 minutes.
Make sure you know which teams is the home team or playing away.
Read more betting reviews
African Football Bets wants you to become a smarter sports bettor so please read up on all our betting reviews here